LASIK in Anaheim Hills
At Schneider LASIK, we deliver the best visual results possible by constantly investing in new technologies and raising our standards of care.
Is LASIK Eye Surgery Right for You?
If you're wondering if LASIK surgery is right for you, ask yourself if you've ever been inconvenienced by wearing glasses or contacts. If the answer is yes, then it's definitely time to visit our Anaheim location for a LASIK consultation. At Schneider LASIK, we know the hassle corrective eyewear can add to your daily life, and we also understand how crucial clear vision can be. Our laser eye surgery allows you to enjoy your life clearly without the inconvenience of daily corrective eyewear.
From athletes to professionals and everyone in between, people of all lifestyles have benefited from corrective eye surgery with Schneider LASIK. Don't wait any longer to schedule your LASIK consultation; it's your turn to have perfect vision.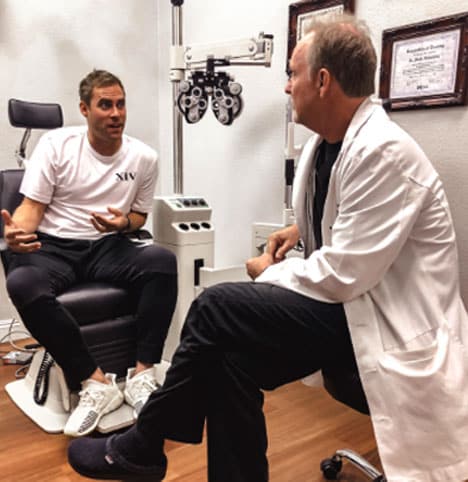 About Schneider LASIK
Expertise, experience and unparalleled commitment to patient care are what you'll find when you schedule laser eye surgery with Schneider LASIK. Led by Dr. Mark Schneider, an award-winning LASIK surgeon, the team at Schneider boasts over 50 years of collective experience in LASIK eye surgery. We believe in continually advancing our treatment protocols and creating an entirely personalized experience for your procedure.
Laser Eye Surgery in Anaheim Hills
Our Anaheim Hills location brings LASIK consultations to your area. We will give you a comprehensive evaluation to determine if LASIK eye surgery is a good option for you. From there, we'll walk you through the details of your procedure and help you schedule your life-changing LASIK surgery, customized to your goals and needs.
We perform all of our laser eye surgeries at our fully equipped, state-of-the-art surgery center in Corona, less than an hour away from our Anaheim LASIK practice.
Why Choose Schneider LASIK
When you decide to get LASIK, you want to feel confident you're choosing the most experienced, compassionate eye surgeon possible. That's why over 20,000 patients have chosen Dr. Schneider and our expert medical team for their laser eye surgery. Our superior LASIK experience is complemented by our flexible financing options because we believe everyone deserves to enjoy the life-enhancing benefits of LASIK surgery.
We work tirelessly to give you the most customized, enjoyable experience possible from start to finish because your safety and satisfaction are our main concerns.
Directions
We are located at 500 S Anaheim Hills Rd #246, Anaheim, CA 92807.
If you are coming from the north, head southeast on N Imperial Hwy/Richard M. Nixon Fwy. Continue past California Fish Grill, and use the left two lanes to turn left onto E Santa Ana Canyon Rd. Drive past Rubio's Coastal Grill, and then turn right onto Anaheim Hills Rd. Take the first left after Nohl Ranch Rd, and we are located on the left.
If you are coming from the south, head north on S Crawford Canyon Rd. Drive past Orange County Mining Co. Then Continue onto N Cannon St, which turns into S Imperial Hwy. Then take a right onto Nohl Ranch Rd. Next, take a right onto Anaheim Hills Rd. We are located on the left, in the same building as ActiveKidMD Pediatrics and Sports Medicine.
LASIK Doctor