Quality LASIK in Corona, CA
The decision to have LASIK is a big one, and before you take the final step and make your appointment, you need to find a team that you trust. The experienced eye surgeons at Schneider LASIK can put your mind at ease before, during, and after this life-changing procedure. We're confident that LASIK is the right choice for you, and our experienced team will give you the lifelong clear vision you deserve.
Is LASIK Right For You?
Every year, millions of people find out that LASIK is the perfect choice for their vision. Consider these benefits: If you wear glasses or contacts, LASIK can provide a life free from the hassle of corrective eyewear. LASIK provides lower risk and a better value over time than wearing contact lenses. Imagine a life in which you no longer need to roll over and feel for your glasses when you wake up in the morning. You won't have to go to the eye doctor and get an updated prescription every year, and you won't have to purchase supplies of contact lenses on a regular basis.
LASIK surgery takes less than half an hour, start to finish, and most patients experience improved vision within 24 hours. The benefits speak for themselves; what are you waiting for?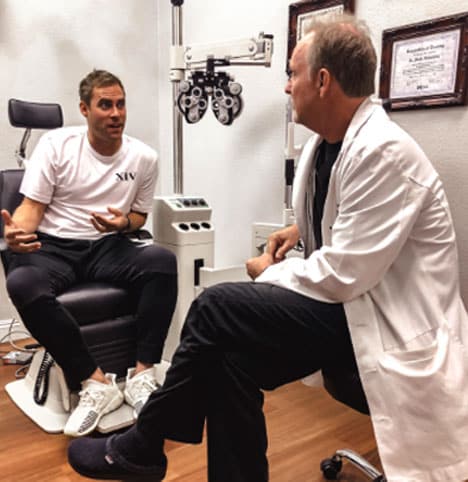 About Schneider LASIK in Corona, CA
Our Corona location is home to our primary surgery center, where Dr. Mark Schneider, M.D., and his team carry out thousands of successful laser vision corrections each year. In his career, Dr. Schneider has provided LASIK surgery to clients ranging from athletes and celebrities to TV and radio personalities, establishing himself as one of the most trusted names in the industry.
At Schneider LASIK in Corona, we offer the peace of mind that comes with knowing you have access to the industry's most experienced surgeons and cutting-edge equipment. With the latest laser surgical tools, we can minimize risk and ensure a smooth recovery.
Corona Laser Eye Surgery
Our Corona office is located in beautiful Riverside County, amidst a diverse, thriving community. Like every Schneider LASIK location, we don't just offer our services to you and your community, we strive to become a fixture in the area. If you're a patient in the Corona-area searching for a solution that improves your vision and your life, it's time to talk with a member of our professional staff at Schneider LASIK. Take our LASIK self-test to learn more!
Why Should You Choose Schneider LASIK?
Here are three reasons why Schneider LASIK should be the name you trust for high-quality laser eye surgery:
Experience
Dr. Schneider and his team have decades of experience in the industry. Over the years, our team at Schneider LASIK has pioneered new techniques, become early adopters in new technology, and never stopped developing our surgeries to fit each and every patient we serve.
Value
Before you make the investment in LASIK, you need to find a team you can trust. We offer customized laser vision procedures that will provide lasting value for the rest of your life. We also offer a variety of financing options, so the cost of LASIK will never have to be a roadblock in your journey towards clear vision.
Comfort
Not only is LASIK with us physically comfortable, we take every step to ensure that you stay informed every step of the way. Starting with your initial evaluation, we'll explain the procedure and make recommendations with your case in mind. On the day of your surgery, we'll talk you through it and give you the information you need for a smooth recovery.
Directions
Our Corona office is located at 1124 S Main St, Suite 102 in Corona, a few blocks east of Husted Park. Here's how to find us:
From the West: Take CA-91 into Corona and continue onto W. 6th St, near Ayres Lodge and Suites Corona West. Head east into the Grand Blvd circle and turn right onto S Main St. Follow S Main for a few blocks and find us on your right, across Main from the Valvoline Instant Oil Change.
From the North/South: Head North/South towards Corona on I-15. Merge on to 91 (Riverside Fwy) West and exit left on S Main St near the Meineke Car Care Center. Follow the same directions as above to find our office.